Jabber Client Quick Setup
gaim: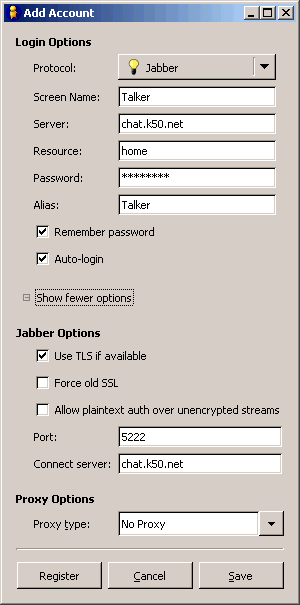 pidgin: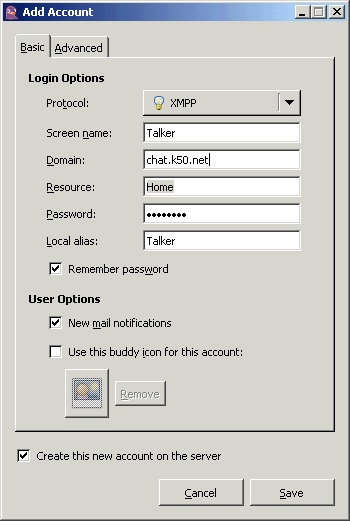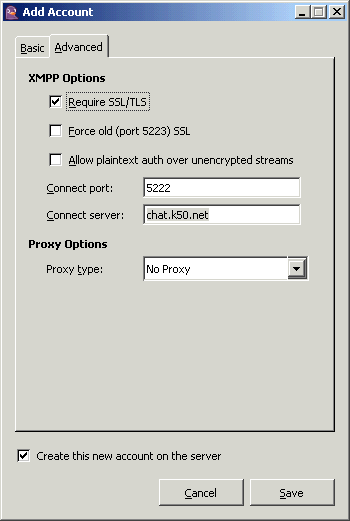 Download and install gaim (now pidgin, second set of images) from http://gaim.sf.net. I have had multiple reports of early pidgin versions having problems. If you are having weird pidgin problems, uninstall it and use the older gaim 1.5 version.
Run it and add an account.
Set "Protocol" to "Jabber" or "XMPP" (which is also jabber).
Expand the "Show More Options" tree (gaim) or the "Advanced" tab (pidgin). The setup screen should look similar to the one above.
Set "Screen Name" and "Alias" to your user name ("Talker" in this example). This is usually first initial and last name run together (no spaces).
Enter a password for the account.
Check both "Remember Password" and "Auto-login".
"Resource" is just where you currently are at the moment (usually "home" or "laptop").
My personal server is "chat.k50.net".
The server port should remain at the default "5222". Note that some older clients (phones) may require the older 5223 for SSL.
Turn on encryption for privacy. Check "Use TLS if available" (gaim), or "Require SSL/TLS" (pidgin).
The rest of the features can be unchecked.
For "Proxy type" select "No Proxy" unless you have a convoluted network setup and know what you are doing.
For the first time connecting to the server, you have to create the jabber user account before logging in (only do this once). Hit the "Register" button at the bottom to automatically do this (gaim) or check "Create this new account on the server" in pidgin. I repeat, DO THIS ONLY ONCE. Answer the next questions accordingly.
Save the settings and click the "on-line" check box back at the "Accounts" screen.
Connecting to a server will take a minute. That's mainly because of key generation. Encryption keys are complex so others can't easily break into them. It may take a minute for the keys to generate, but it should not freeze forever.
To add someone in the main list, use the "Buddies/Add Buddies" menu. Remember that Jabber is more like instant email than chat. Users appearing on my server will take the form of "userX@chat.k50.net" for the dialogue boxes (replace "userX" with the real user name). "Screen Name" is the user's real Jabber name. "Alias" is how you want that user to appear in your personal list. "Group" is sub-grouping in your list. Type a new group name to create it. "Account" is which of your users will be used to talk to that person. Rember gaim can be set up for multi-server usage across multiple protocols. When adding a "buddy", each side has to be authorized before each side has the reciprocating buddy in the list. This is easiest done when both people are on line at the same time. Be sure to look for the dialogue boxes for this that will pop up at odd times.
Most usage will be just instant messaging. Double click on your buddy and type a message in the window. If the buddy isn't around, the message will be stored until the next login (and then the buddy will be bombarded by all your messages at once).
Lesser usage will be a chat room. To join a chat room, use the "Buddies/Join a chat..." menu. "Account" is your user to be used to talk. "Channel" is the chat room name. "Password" is the password for that chat room, provided there is one.
---
Problems
Sometimes problems happen that can drive you nuts. Here are a few tips on starting over to fix them.
Install gaim to its default paths. Sometimes programmers "miss" things and hard code locations...when they shouldn't.
If gaim flat out fails, terminate the process. Afterwards, go into Task Manager and terminate any leftover gaim processes. Also check the task bar tool tray for the gaim icon.
If gaim really-really fails, uninstall it then reinstall it.
If that still fails, delete the leftover files before then reinstall. These are located in a few different places. In WinXP, "c:\Documents and Settings\LOGIN_NAME\Application Data" directory has a ".gaim" directory. After that delete everything in the "c:\Program Files\Gaim" directory.
If you're really paranoid, you can do a registry dive (run regedit.exe) and search for "gaim" and remove those entries from the registry before the reinstall. A reboot may be a good idea but shouldn't be necessary for this.
If you're really "l33t" you'd be running gaim under linux or bsd and none of this stupid windoze crap would matter.
---
Other
Gaim works with many other protocols besides jabber. Gaim also supports multiple logins to different servers as different users. You can use gaim with these other servers at the same time but keep in mind that you are only chatting ENCRYPTED through my jabber server, NOT the others.